Why two storey homes are worth the investment
When it comes to choosing a new home, one of the most important considerations is the cost. For many people, a two storey home can appear more expensive than a comparable single storey design. 
However, there are several benefits that can make a two storey home worth the investment. From the elevations to rear garage access options and spacious open plan living, it's easy to see they are becoming an increasingly popular option.
With an eye on your future, and the return on your investment, we look at some of the main reasons why two storey homes are a smart choice for first home buyers, downsizers or families.
Smaller blocks don't mean smaller homes
The great Australian dream has always been sold as having a big home on a big block of land. But as population grows, block sizes have continued to shrink, especially in urban areas. 
As a result, narrow lot homes are becoming a viable choice for home builders providing buyers a modern, low-maintenance lifestyle in a great location. If you have a narrow lot, building a two storey home is a great way to maximize the space that you have. By building up rather than out, you don't have to sacrifice on space maximising every inch of the design so your home will never feel cramped or cluttered.
More for less 
With some truly innovative new designs now available, smaller blocks don't mean smaller homes. Our narrow lot homes have been cleverly designed to maximise space and affordability, meaning you can still enjoy a larger home, but for less. 
Designed and built by some of Perth's best builders, narrow lot two storey homes don't require you to compromise on quality. In fact, you get the highest standard of modern, low-maintenance living with quality finishings and inclusions both inside and out.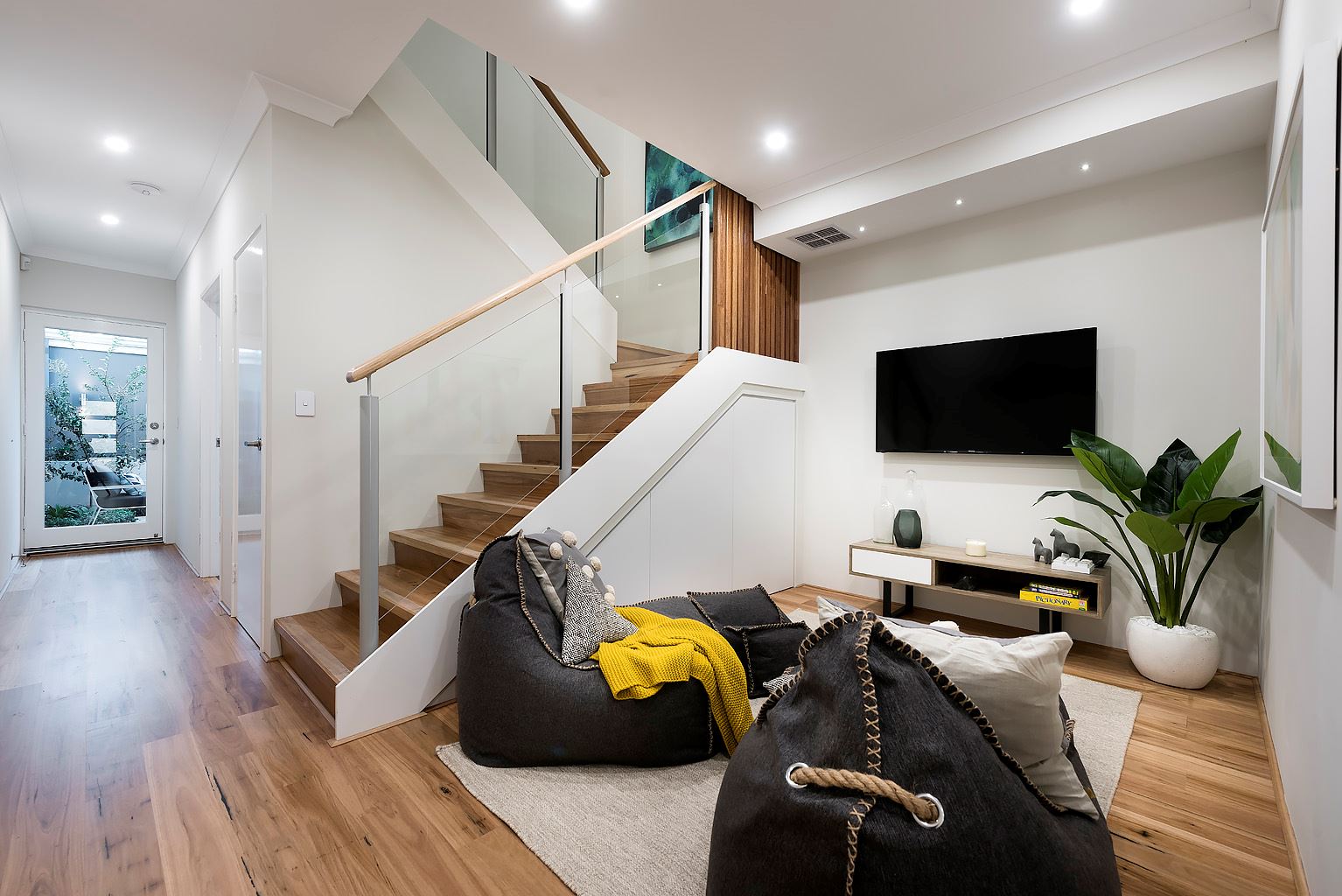 Maximise space rather than sacrificing it
By going up, you are maximising your new home's footprint, rather than chewing off space. This means you have space for enough bedrooms, living areas, outdoor rooms, studies and storage. Two storey houses also give you a little more control with the layout of the home itself.
Narrow lot two storey homes can be tailored to your needs, and whether that means a 2, 3 or 4 bedroom townhouse, they've all been sustainably designed to offer you the most out of your space. 
Energy efficiency
One of the biggest benefits of owning a two storey home is that they are more energy-efficient than single storey homes. This is because most two storey homes are now being designed and delivered with a six-star energy rating. Not only do six-star homes reduce artificial cooling and heating but they also reduce your carbon footprint. 
By maximising your energy efficiency, you will be able to save money on your energy bills which is music to everyone's ears.
If you're considering building a new home, you should strongly consider a two storey design. The benefits they offer, and the location they are available in make them a smart investment for now and the future.
If two storey living sounds like the perfect option for you, get in touch with our team today by calling 0475 560 570 or find out more about two storey house and land packages available at Oakebella.